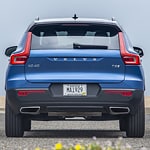 The Volvo XC40 is a subcompact SUV from Volvo that's significantly more luxurious than a lot of the competition. At Volvo Cars Marin, we don't tend to focus on the superfluous. We usually just keep our attention focused on practicality and functionality above all else. However, that's impossible to do when you're discussing this Volvo vehicle.
The Volvo XC40 comes with exterior features that seamlessly blend aesthetic and purpose. One example would be the vehicle's lit up door handles, which provide both a feeling of welcome and home to the vehicle, while also making it easy to locate your door handles in the dark. Another good example of Volvo ingenuity would be the Volvo XC40's rain sensor, which detects rain on your windshield and turns on the wipers for you.
To learn about all of these features and experience them firsthand, why not come by Volvo Cars Marin to test drive the Volvo XC40 for yourself?