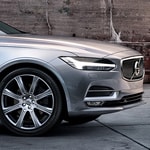 The Volvo V90 Cross Country is a luxurious all-wheel drive vehicle that can be used as both an everyday commuter and for off-road adventures. This article discusses the ins and outs of this crossover SUV, including its safety features and technological innovations.

Improved All-Terrain Capability

The Volvo V90 Cross Country is the first of its kind, as most luxury vehicles tend to be front wheel drive or all-wheel drive. This new design includes a Haldex All-Wheel Drive system with an electronic coupling capable of transferring power from side to side. Other features include Dynamic Stability and Traction Control, Hill Descent Control and a Terrain Response system which automatically adjusts the vehicle's behavior to different types of terrain.

Powerful Engines

There are 3 engines available. The first one is a 2-liter turbocharged 4 cylinder T5 petrol engine capable of 250 horsepower and 258 pound-feet of torque with a 6 speed Geartronic transmission. The second one is a 2-liter turbocharged 4 cylinder diesel engine with a choice of three different driving modes: Power, Eco and Economy mode. In this version, there's also a range extender option which acts as an extra generator for the car.