To Celebrate Life - Breast Cancer Awareness. We have all lost a dear one to cancer or know someone who has. At Volvo Cars Marin, we are proud to support To Celebrate Life - Breast Cancer Foundation. Each year we are able to donate a significant amount to the cause.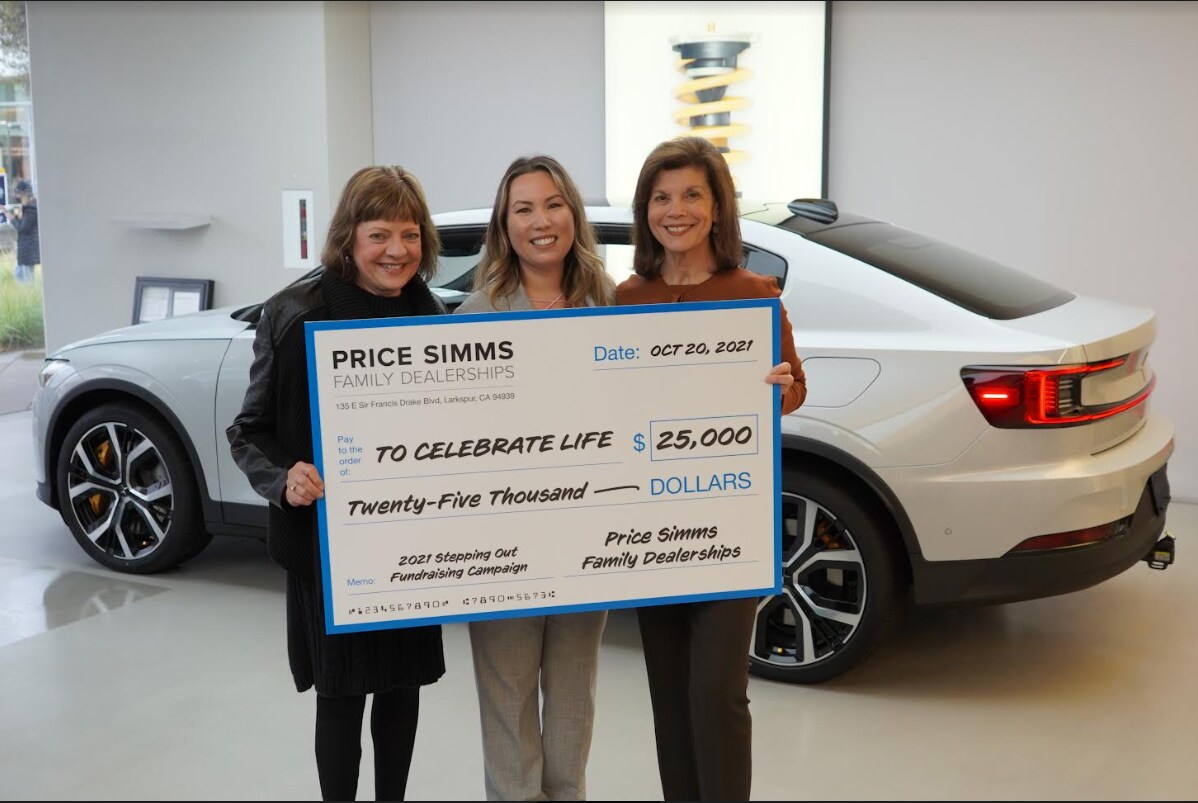 What we do about Sustainability
With Everything we do at Volvo Cars Marin, we keep protecting our planet top of mind by recycling, properly disposing of waste oil, batteries, and parts.  Tires are recycled into Astroturf. Pallets are returned to distribution centers for reuse. We use solar panels, repurpose waste and other items via waste management. Our facility uses energy efficient lighting throughout all our facilities. We use low flow toilets and encourage our employees to drive EV vehicles. We are a non-smoking facility.
Community Involvement:
At Volvo Cars Marin,  we care about our employees, customers and community.  Volvo Cars Marin has won "Best Dealership To Work For" two years in a row (2021 and 2022). We are proud members and sit on the Board of Directors of the San Rafael and Corte Madera Chambers of Commerce. We are proud to support local organizations like: We are one Marin, Performing Stars of Marin, Extrafood.org, Marin Humane Society, Save a Bunny, ELM for Kids, SF Marin Food Bank, Big Brothers Big Sisters, Marin Community Clinics and many more thanks to our involvement with Giving Marin.
Giving Marin -
 At Volvo Cars Marin, we are proud to partner with
Giving Marin
as they provide support to a movement fueled by a collection of the North Bay's most community-minded businesses and institutions.
 The solution they are backing is simple at its core: The businesses, one per profession, have committed to underwrite marketing space for varying nonprofits every month. 
You'll notice the purple Giving Marin logo in the right bottom corner of any ad in the Marin Independent Journal or on marinij.com that is underwritten by a partner.
We think the need for such a program is vast. Donor fatigue after the tragic North Bay fires and changes to the tax code threaten funding for Marin's nonprofits. We hope to offset their challenges by offering no-cost publicity for their causes.
The entire endeavor would not have advanced without the tremendous support of the Marin Community Foundation, and the guidance of CEO Dr. Thomas Peters and Vikki Garrod, chief communications officer.
Another goal of Giving Marin is to foster volunteerism and community engagement. The Giving Marin website (givingmarin.com) and social media channels will keep a running list of volunteer opportunities and events that benefit 501(c)(3)s. We have a page in the print and e-editions of the Marin IJ, on Thursdays, where photos and listings of nonprofit events and volunteer opportunities are featured.
We hope the new movement plays a small part in inspiring other local companies to become more involved in charity work, or stretches them to increase their already-generous contributions.
The partners of Giving Marin are committed to giving back. At year's end we give no less than 15% of the revenue generated by the initiative to the nonprofit community. Through the first four years we have distributed $270,000 to Marin's nonprofit community.