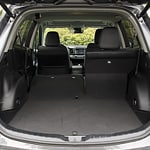 At Volvo Cars Marin in San Rafael, CA we have plenty of crossovers in our inventory. There are many great reasons to buy a crossover in today's day and age. If you travel a lot, a crossover is also a great option.
Crossovers are one of the most popular vehicles, so they get design upgrades regularly. So, if you are looking for a well-designed interior and exterior, then a crossover is a wonderful option. Also, crossovers tend to be cheaper and have top-of-the-line amenities.
A crossover is also smaller than a large SUV or a minivan and can have the same interior features. Crossovers can have a significant amount of cargo as well as a third-row seat for more passengers. Crossovers can also have all-wheel drive, which is great when driving in fall and winter weather. Unlike a sedan, a crossover is also usually higher off the ground, giving you more clearance.